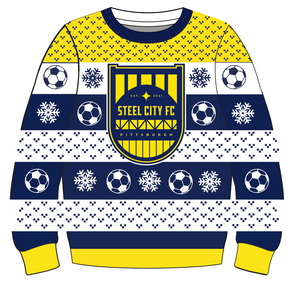 'Tis the season to be jolly, and what better way to spread the festive cheer than with your very own SCFC Ugly Sweater? Don't miss out on the opportunity to be the life of the party, but act fast – order within the next 24 hours to guarantee your size and delivery before the holidays!  After 24hours our stock and sizes will be limited.
Check out our size chart to find the perfect fit - we've given a rough guess of how these adult sizes would fit kids but please measure before ordering - we're happy to make an exchange if we have any leftover:
 xxxs - 34" Chest  (Were guessing that this would fit YL)
 xxs - 36" (Were guessing that this would fit YL/YXL)
 xs - 38" (Were guessing that this would fit YXL)
 S - 40"
 M - 42"
 L - 44"
 XL - 46"
 XXL - 48"
Why you'll love our SCFC Ugly Sweater:
 Unique Design: Adorned with the unmistakable SCFC charm, this sweater is the perfect blend of soccer pride and holiday spirit.
 High-Quality Comfort: Crafted from the coziest materials, it will keep you snug and stylish throughout the festive season.
 Limited Edition: This exclusive design is a collector's item for devoted Steel City FC fans – once it's gone, it's gone!
Ordering is a breeze – just visit our online store, choose your size, and secure your SCFC Ugly Sweater today. Your friends and family won't know what hit them when you show up to holiday gatherings in this one-of-a-kind piece.